Instead of going to the beach today, we decided to go visit Katsuren Castle, the ruins of one of several castles on the island. It's a 15th century castle and sits up on top of a hill overlooking the Pacific.
Those stairs look much cooler when you're just looking at them. They lose their novelty after you've carted your carcass up a few dozen of them...
The stairs from another angle...
A nice steep hill to GET to the castle...
A fairly typical view of Okinawa. I stood precariously on the uppermost wall of the castle to get this shot. AND it was a windy day. You people don't know how much I risk to get these pictures for you. Seriously...
More. Freaking. STAIRS.
Something you don't see every day...
View of the castle...from the top of the castle...and yes, I was standing on top of the walls...
This picture doesn't really serve a purpose, except to remind all of my friends in colder climates that I live in a place where palm trees grow...
Just a funky perspective shot...
Eddie sitting on the wall, something they'd probably never let us do in the States...
Eddie decided it was too steep to just walk down the hill, so he opted for a more efficient mode of transportation...namely, his butt:
One of the walls. That's an actual, authentic, 15th century backhoe in the foreground, too.
Eddie, enjoying the fact that they really don't care if you climb all over everything in spite of the possibility of breaking your neck should you decide to fall...
And finally, a wicked cool 180 degree panoramic view from one of the walls...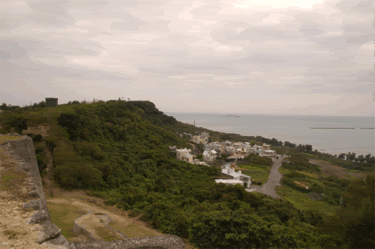 So that was our day visiting a castle. Coming soon (like, REALLY soon...Eddie storms the castle...)